Hello. My name is Ahmetia Campbell. I am currently living in Hampton, New Hampshire in a basement with my loving fiance, Mikey, and his mother, April. I opened my etsy shop before moving up from New Jersey. Talk about bad timing to open an etsy shop huh? But with some elbow grease and dedication, I hope to flood everyone with cute little crafts.
A little more about me. I am also an inspiring film maker. I am a part of a group called Butchers of Cinema Bay which I hope will take off eventually...when we can ever meet. Ha ha!
I also plan on making webcomics when one is inspired. But I'll be mentioning those as those projects come up.
I inspire to be a writer and currently have over a dozen unfinished books and stories. YIKES!
As you guys might have guessed, I am an over-doer procrastinator.
I have another blog on this site too about that.
But with some tools at my disposal, goals in mind, and loving friends and family behind me, I hope to be able to do it all!
I also like going to conventions, particularly
Wicked Faire
,
Steampunk World's Fair
,
AnimeNext
,
Ubercon
,
Faerie Con
, and I'm hoping next year,
Dragon*Con
and
Comic-Con
. I love meeting people there, making friends, and seeing the friends from the year before.
About my shop, I decided to open the shop because I have a lot of arts and crafts ideas I want to share with others. I chose the name Crimson Road Crafts because I wanted to picture a mysterious road, and a gypsy, a master of all trades, selling her wares.
Incase you were wondering. This blog is going to hopefully have a lot to it based off of the day of the week.
Sunday: Coming This Week! - Where I announce a new featured product that will be up by the end of the week.
Monday: New From My Favorites - Where I show some of my favorite items being sold on etsy.
Tuesday: Tutorial Tuesday! - Where I share a tutorial on your own projects. (recipes count too :-P)
Wednesday: Sneak Peak Photos - Where I share photos while working.
Thursday: Contest and Raffles - Where I share a means to win either my own handmade item or perhaps a craft item, or something else on etsy, or, who knows.
Friday: Friday Coupons! - Once I learn how to make coupons, I'll be sharing codes for those who read my blog.
Saturday: New Products - Products made that week as well as the new featured item.
Well, since it's still technically Monday when I post this, I might as well share!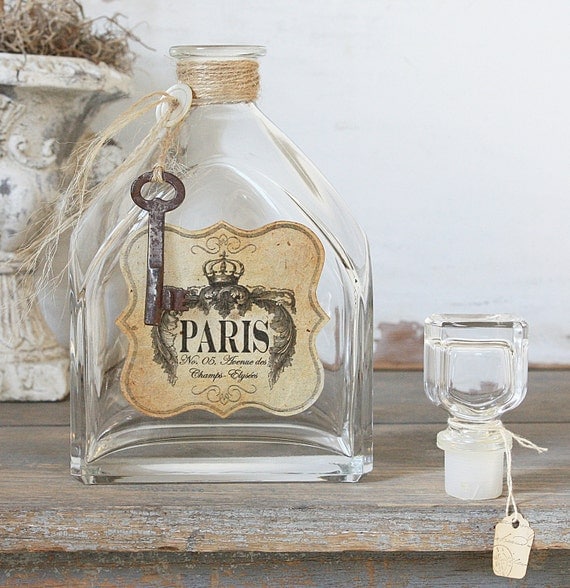 Repurposed Vintage Bottle: Rustic French from
Cloth and Patina
.
I love all things vintage. So when I saw this bottle featured. I had to add it to my favorites. This is meant to remind you of a french perfume bottle. Personally, I see a bottle of french absinthe. But then I love the idea of something who's mascot is a devious little faerie. I could easily see this sitting in my home, filled with home perfume, and having a few hemp twisted reeds. Or, hidden from family when they come over for a drink. Ha ha ha.
Well, that is it from me till tomorrow. Night folks!